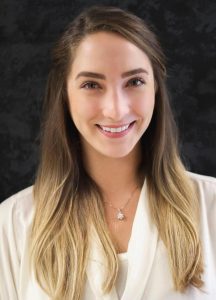 Nadia Sulieman DDS,
Dentist
My name is Nadia Sulieman, and it is my honor to meet many new faces and get to know all of your smiles and stories. I attended University of South Florida and majored in Biomedical Sciences. I have been practicing since 2015 after graduating from Nova Southeastern University. The learning never stops in this field and this is one of the reasons I love it! When I am able to provide mentorship and support to other doctors in the field of dentistry as it is a great passion of mine. I believe that continuing education courses to further advance skillsets is of the utmost importance, and a responsibility all healthcare practitioners should share. It is our responsibility to provide our patients with the optimal treatment to ensure long lasting oral health and smiles. Early on in my career I spent many hours volunteering for the Florida National Guard, as well as many free dental days in which we provided free dentistry for those that were unable to afford care on their own.
At home I enjoy my time discussing dentistry and navigating parenthood with my husband who also practices dentistry. We have two beautiful daughters and a poodle. We are currently raising our girls to appreciate Pink Floyd, good southern BBQ, F1 racing and you guessed it, teeth! My hobbies include DIY projects, video editing as well as photography.
I look forward to meeting and taking care of Dr. Quintero's patients who are essentially, like family. I take this trust placed in me seriously and I look forward to having the chance to get to know each face. Thank you!
Meet Our Team
Our caring and hard-working team at our Afalaya office are here to handle anything you need to have a stress-free experience. From scheduling your appointment to assisting our doctor with treatments for your smile, you can rely on us to make sure you are well taken care of. Give us a call today at to schedule a consultation with our dentist and learn more about comprehensive dentistry in Orlando, Florida.
Karen joined us in March 2021 after pursuing her education in Long Island City, New York. She communicates very well with our patients and has great relationships with the doctor and team. When she is not taking care of patients, you can find Karen trying new restaurants.
Zenaida became part of our team in May 2019. She is a proud high school graduate from Ewing High School in New Jersey and she enjoys promoting teeth whitening to brighten smiles. Her hobbies include cooking, relaxing on the beach and watching Netflix.