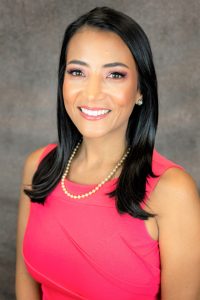 Dr. Vanessa Leon received her dental degree from Howard University College in 2016 after graduating with a bachelor's degree in biology from the University of Central Florida. She is an active member of the International Dental Implant Association (IDIA) and is constantly keeping up with education.
Dr. Leon has been practicing dentistry in Orlando, Florida, for six years and has completed a surgical course and training in dental implants. As a dentist, her goal is to provide an honest diagnosis and treatment options with top-quality treatment.
She is married to her husband, Hector, and together they have two boys: Daniel and Nicolas. When she is not in the office, she enjoys doing yoga and is actually a certified yoga instructor.
Meet Our Team
Our hard-working team here at the Goldenrod office goes above and beyond to make sure your appointment runs smoothly. From greeting you as walk through the door to assisting Dr. Vanessa Leon in our treatment room, you can count on us to provide friendly customer service every step of the way. Call us today to schedule a consultation with our dentist and learn more about comprehensive dentistry in Orlando, Florida.
Nixie is our wonderful office manager who joined our team in December 2021. She has 14 years of experience working in the dental field and loves being part of a family-oriented practice. She contributes to the success of Exclusive Dentistry by providing amazing customer service to our patients and guiding them through the whole process of their treatment.
When she is not in the office, you can find Nixie spending time with her husband, three daughters and her dog. She also enjoys traveling to new places and watching the sunset at the beach.
Destiny
Assistant Office Manager
Destiny joined Exclusive Dentistry in May 2021 and enjoys working alongside a team that she can learn from and work well with. She contributes to the success of our office by giving our patients the best customer service she can and working with our team to make the office feel like family. Her hobbies include shopping, eating and traveling.
Will has worked with Exclusive Dentistry for over three years and has had a dedicated career in dentistry for more than 22 years! Originally from Venezuela, Will loves to enjoy time with his kids and spends time at the beach on the weekends! When he is not at Exclusive Dentistry, he spends his time trying new food and drinks as well as traveling!
Yoriling has been working at our office since November 2020 and is known for serving all our patients with quality and timely care. She is originally from Columbia where she graduated from the University Colegio Odontolóqico Colombiano and is also recognized as a dentist. She likes everything about Exclusive Dentistry, from the work environment to her relationship with the doctor to, of course, caring for patients, which is her passion.
In her free time, you can find Yoriling playing sports or at the gym.
Janet
Lead Dental Assistant
Jane became a member of our team in July 2020 and is always happy to serve patients and improve their dental experience so they feel comfortable coming back to visit our office. She is originally from California, where she pursued her education, and now currently resides in Florida with her husband and dog. Her favorite parts about working here are the team harmony and the happy patients she gets to surround herself with every day.
Outside the office, Janet likes to stay busy making resin crafts, using her Cricut machine, reading, doing nails and visiting new places.
Nikolle has been working as a dental assistant at our office since May 2018. She received her bachelor's degree in health science with clinical administration in 2017 after earning her associates in dental assisting with expanded functions from the University of Puerto Rico, medical science campus. She enjoys how well we work as a team and making patients feel comfortable when in the chair.
In her free time, Nikolle enjoys spending time doing her nails, baking and going out with her husband.